According to
PureWow,
the hot new color for fall is Kelly green:
Often written off as the requisite color of Izod fans and Nantucket vacation-goers, Kelly green is now the most elegant hue for fall. Not only does it add an unexpected pop of color, it's also the ideal summer-to-fall-transition shade.
And Christine Suppes writes at
fashionlines.com:
Just back from New York where the color of the moment is kelly green, from camisoles seen at Downtown Cipriani to handbags at the Metropolitan Museum...
Below, some of the prettiest Kelly green looks I've found on the internet.
I'm participating today in Pink and Green Thursday, hosted by
Pink Preppy Lilly Lover!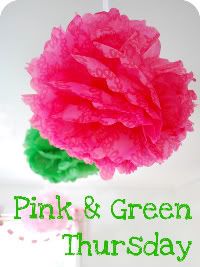 Photo credits: