Welcome to Notes in the Key of Life! My name is Cindy Swanson.




I love to write, and anything that captures my interest will find its way to this blog.

Whether it be matters of faith, current events, family issues, beauty and fashion, books and entertainment, health and fitness, diabetes issues, or a wide variety of other topics,I hope readers will find my writing appealing, engaging and relevant.

I love to laugh, I love music, I dream of traveling to Ireland, Scotland, England and Paris. I'm into beauty and fashion and trying to be the best "woman of a certain age" that I can be!

I believe that grace, love and kindness have a ripple effect, and I want to be a light in the darkness. My faith in Jesus Christ defines me.

I'm a radio newscaster and a voice-over artist who is passionate about reading. I'd love for you to visit my book blog, Cindy's Book Club.




I've been married to Doug for 33 years!

We have three grown children--Jonathan, Justin and Elizabeth. Jonathan is married to Daylyn, and they are the parents of the loves of my life--my little grandsons, Payton and Josiah.

I adore my family, and spending time with them is what makes me happiest.




I hope you'll leave a comment, and please come back again!
P.S. I'd be thrilled to death if you'd "like" my blog's Facebook page. Find it on my sidebar and click, or go here!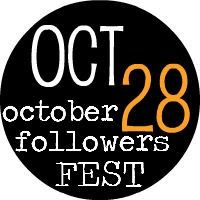 October Followers Fest is a linked blog hop hosted by Casey Wiegand, Much Love Illy,Changing Lanes, and Boho Baby Bump! Go to any of the four blogs to get more info.